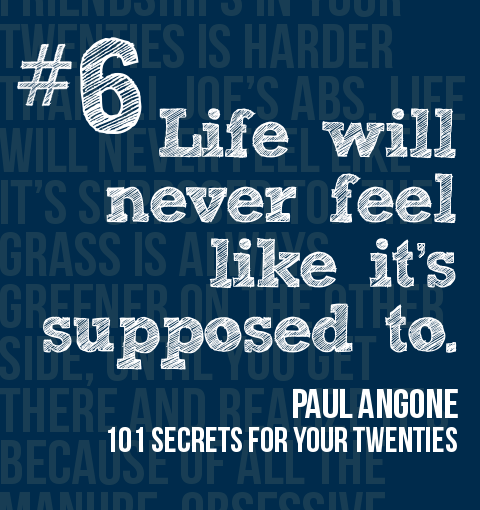 Your 20's can be very, very tough time.
Picture this: you're a year out after graduation. You're in a job that has nothing to do with your degree, and you hate it. You're bored, unchallenged, and you feel trapped.
You're single, you're living in a tiny little room with no air-conditoning, and broke. Your car can barely handle the slow lane on the freeway without seriously sounding like it's going to explode.
"What about all those things I said I wanted to do?" you ask yourself. "Why is my life so…boring? Why aren't I changing the world?"
"Is this really it?"
Not a lot of us have the answer to those questions. Life after college can be harder than G.I. Joe's abs.
Fortunately, we're not alone in that struggle. Lots of college grads have gone from bored, broke, and miserable 20-somethings into incredibly fulfilled and passionate people.
One of those people is Paul Angone.
Creator of the awesome 20-something blog AllGroanUp.com, Paul has seen it all. Unemployment, depression, and the endless monotony of mindless jobs, Paul was in the same boat in his 20's until he decided to start doing something about it. And that something has finally been summarized into his book: 101 Secrets for Your Twenties.
People: read this book. And tell your 20-something friends about it. It's time to make the world a better place with the gifts, talents, and passion that only you have.
But in order to change the world, your world needs to be changed. And 101 Secrets For Your Twenties is a great catalyst.
Read it, people!
–Anthony
6 Proven Steps How to Get Your Dream Job Faster Than Anyone Else
This short checklist covers how I got my dream job in less than 11 months.